C2 THE LAND AT THE PRESERVE
Collaboration In Action
This 5 acre parcel will be an investment in our futures and the futures of our children.

The Preserve will not only be a haven for us and our children, it will also be a model for healing the land, and creating Community.
C2 – THE LAND AT THE PRESERVE
This is Michele Guy. I have a gathering of folks we call C4 Arizona. We focus on creating the lives we want for ourselves, regardless of what is happening in the world. And we have a whole lot of fun doing it!
As we grow, we meet more like-minded groups in the area and collaborate with them as well. As a collective, we are now taking it to the next, next, next level by coming together to purchase the most beautiful, and pristine 5 acres ever at the Preserve at Red Rover Mine.
THE LAND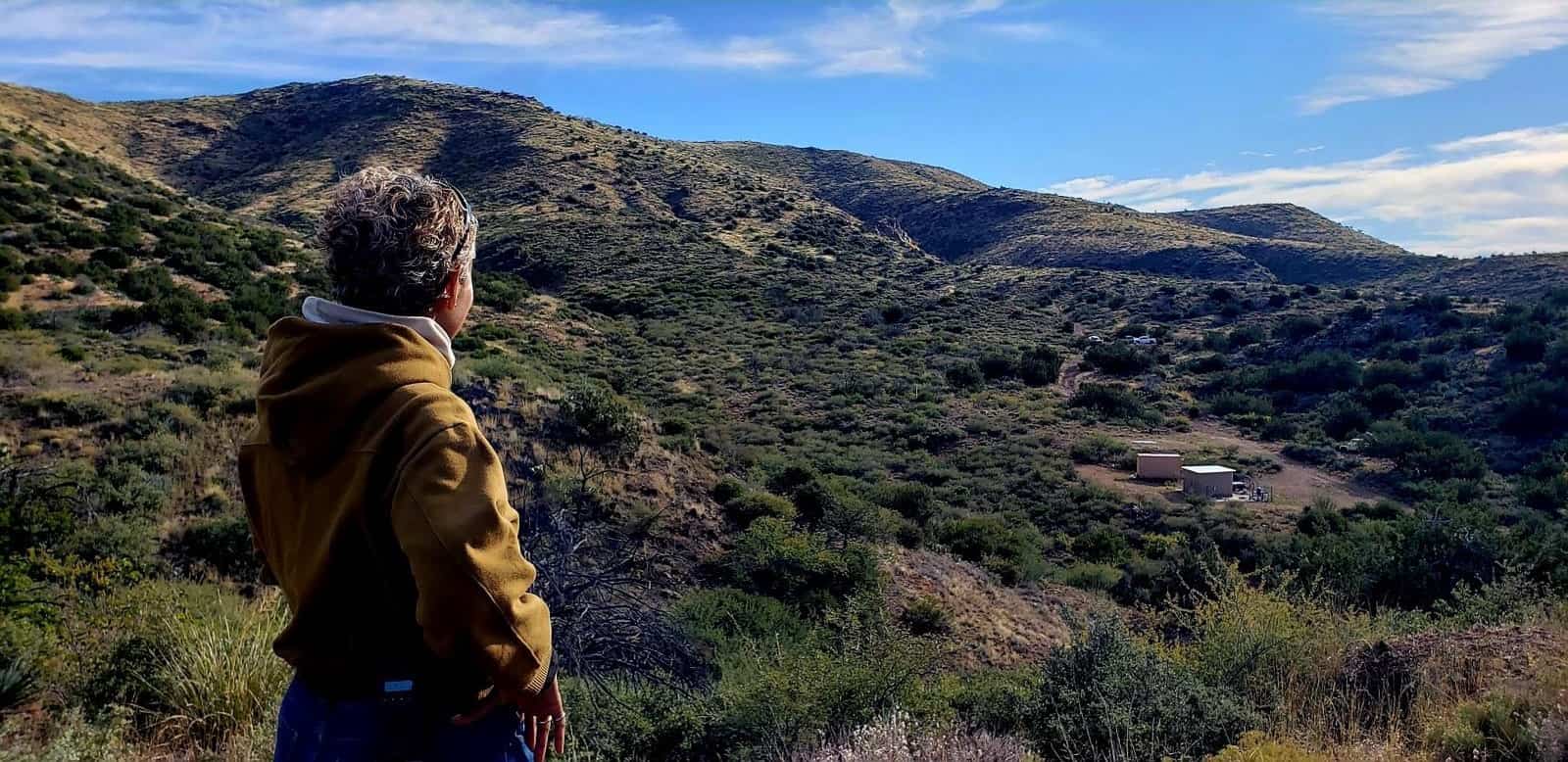 The 5 acre parcel we are purchasing is located adjacent to The Preserve at Red Rover Mine, an intentional community being created by the Scott Foundation. Please see the attached information. The Scott Foundation's Preserve will not only be a haven for us and our children, it will also be a model for healing the land, and creating Community. This project will be an investment in our futures and the futures of our children.
The land is located 14 miles northeast of Cave Creek, near Seven Springs. The Red Rover mine is a historic site and has been owned by the same family since the 1800's.
THE OFFER
This offer is going out to like-minded folks in our Community to truly create the lives we want for ourselves, our families, and our friends. We are putting into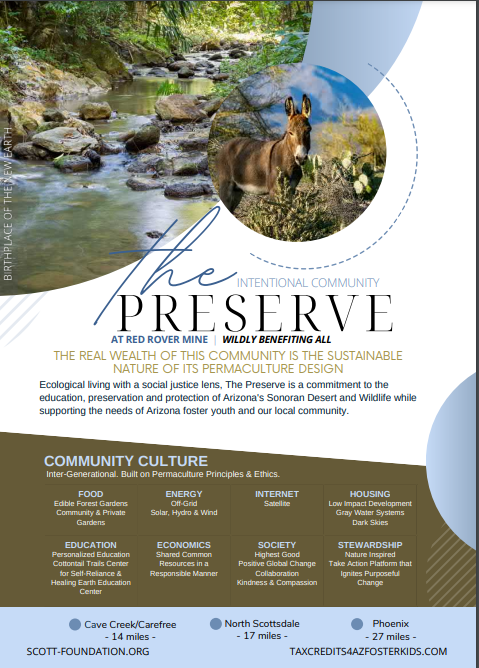 practice our credo of community and collaboration. This is such an amazing opportunity to work together to create something wonderful for the earth and for all humanity.
THE INVESTMENT
We will partner to create magic on this 5 acres at The Preserve. The minimum investment is $3,333. However, $4,444, or $5,555, or more works as well. You can also purchase this as a gift for yourself, a friend, family member, child, or grandchild. Even though you can cash out after a year and probably make a healthy return on your investment, I trust that everyone stays in and continues to work and grow together.
THE TAX DEDUCTION AND HAVEN
A foundation/institute has been established so that we do not have to pay taxes on any revenue we generate. Furthermore, you will receive a donation tax receipt in the amount of your investment.
BUSINESS WRITE OFF AND REFUNDABLE MONEY
We have between 2 to 3 weeks to deposit the funds in escrow to be ready for closing…ideally by September 30th. I trust that you see the power of this Vision and will invest in all of our futures. Also, please bring this offer to your like-minded friends and family to share in the offering.
In the interest of time, please approach any business owners you know with this opportunity for a reimbursable tax deduction! Find only seven people, or business owners you know who would like to lend/put up $50,000 now. Or five people to invest $75,000. Or three people to invest $100,000. This is a fantastic opportunity for them. They will still benefit from the donation write-off, and yet be reimbursed as new folks invest in the property. Therefore, they will be refunded their money over time. What a great return on their investment!
THE COUNSEL
Anyone and everyone investing in this land will play a major role in its development. This will truly be a collaboration. Please determine what skills and resources you will bring to this collaboration to ensure its success and its legacy for future generations. We will establish a Counsel of 5 to 6 of us to guide the future development on the land, having focuses on Spiritual, Financial, Collaboration, Planning, and Development. Please tell me if you are interested in being on the Counsel in any of these capacities.
Please feel free to contact me if you have any questions at all!
In Truth, Joy, and Love,
Michele Guy, C.Ht., P.E., P.Eng.
SEVEN SISTERS HOLISTIC HEALING INSTITUTE
OPTIONS TO TITHE
Tithing can be done with a credit card, however we recommend that you select the US Bank Account option to process your tithe to reduce processing fees.
You also have the option to send a wire transfer to the official bank account of Seven Sister Holistic Healing Institute – Nonprofit Corporation Under 26 U.S.C. Section 508 (c)(1)(A) – EIN: 88-4055719. Click the button below for wire transfer information.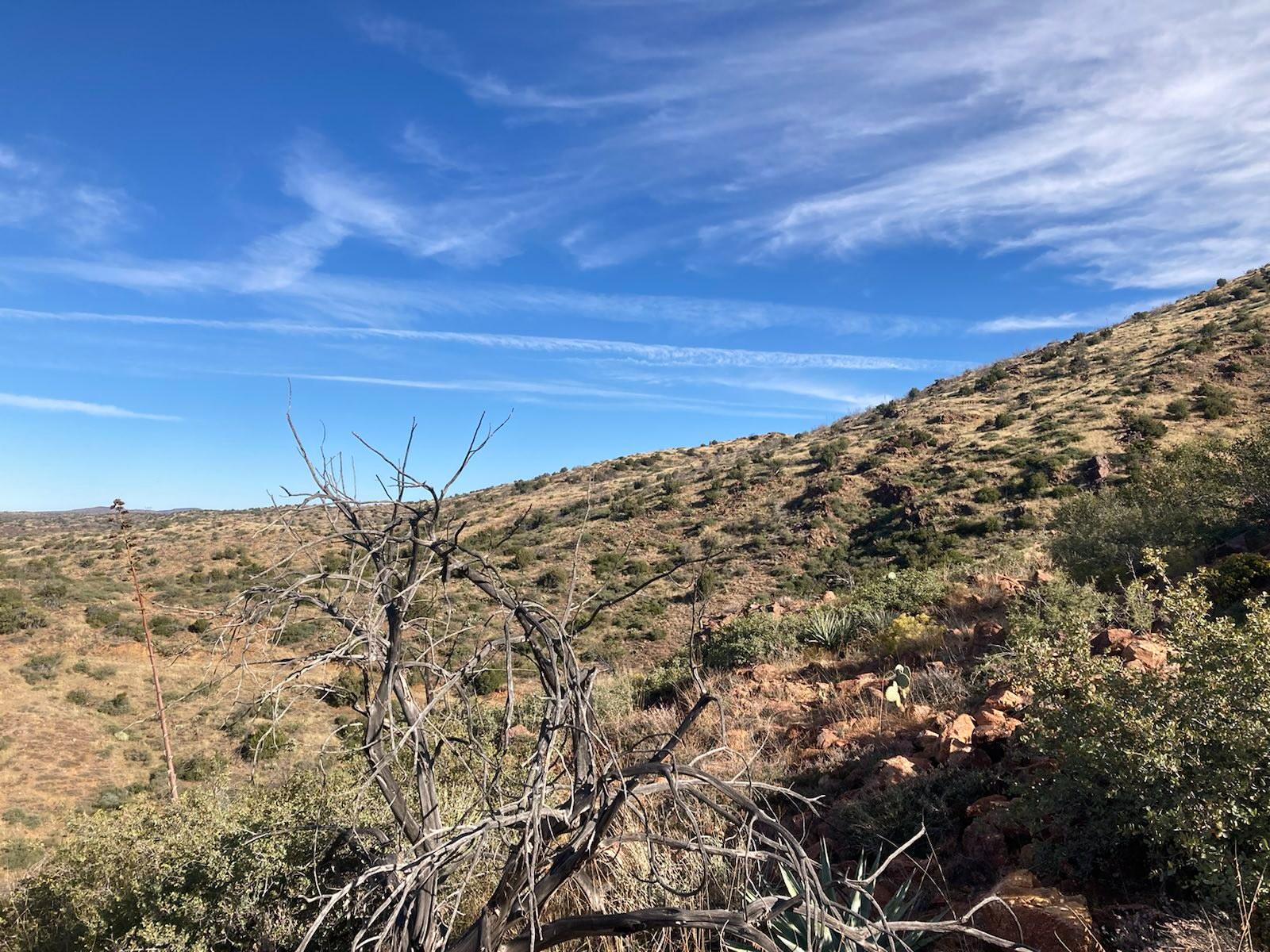 Subscribe For Updates
Join our mailing list for updates